A magical night-time Christmas market is happening in Derby later this month
People can browse over 70 artisan stalls, under twinkling lights as the night market takes over Sadler Gate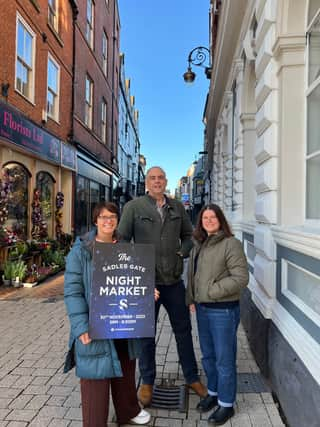 A group of Derby businesses has joined forces to host a magical night market later this month.
Love Sadler Gate, is a Derby-based group that has organised its first Christmas night market to delight shoppers with a festive trail and a night of shopping on Thursday November 30, 2023.
The group is made up of business owners in the street and is headed up by Paul Hurst, owner of The Old Bell Hotel, Emma Shaw from Mr Shaw's House, and Kay Samson, owner of Tubo gift shop.
Shoppers can browse over 70 artisan stalls that will pitch up along Sadler Gate, from 5pm till 9.30pm.
The wide variety of stalls will include food and drink producers and creative makers selling handmade items that could make perfect Christmas presents. It is more than just an opportunity to get ahead of the festive gifting season.
The whole family can get involved as there will be a festive trail along the street, inside Sadler Gate businesses, into The Strand Arcade and then onto the Down to Earth Electric Daisy communal gardens.
Soak up the wonderful winter wonderland atmosphere under twinkling festive lights and enjoy street entertainment that will reflect the street's historical heritage, including Victorian carol singers and the characters from Scrooge who will be performing at The Old Bell Hotel in the run-up to Christmas.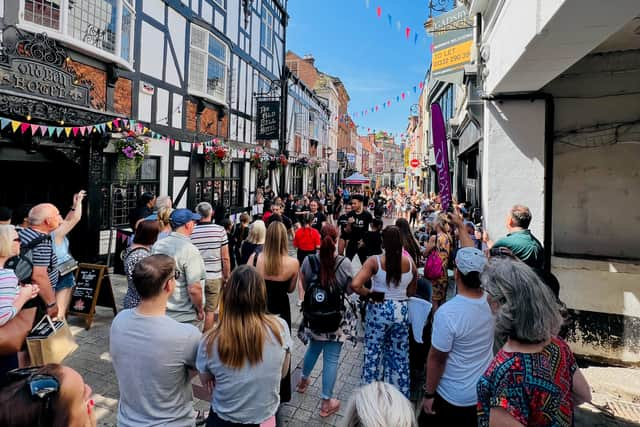 Paul Hurst, one of the Love Sadler Gate's founding members said: "Sadler Gate is Derby's original high street with a vibrant history going back 1,000 years. 
"Curated events are an important way to bring people to Sadler Gate and we have joined together to curate a night market that reflects the unique character of this iconic street.
"We want the night market to be a lovely event for all the family to enjoy where visitors can experience the warmth and vibrancy of our Sadler Gate community."
James and Louisa Hurdis are directors of Canopy who are hosting four artisan makers in their shop in Sadler Gate.
They continued: "We're really excited to be involved in the night market which will be a great start to the festive season and we're expecting a great atmosphere in Sadler Gate on the night."
Artisan maker Beckie Fox from Fox and Bee Crafts added: "I'm thrilled to join this new vibrant night market alongside fellow small businesses. 
"With a true passion for design and making, I can't wait to share my unique offerings with the community and see what everyone else has."
Richard Slater from Slate Leather said: "The night market is going to be a great evening and an opportunity to meet customers and other makers who are passionate about artisan crafts, food and independent businesses."
The night market will be the first of many unmissable events organised by Love Sadler Gate with 2024 bringing a whole host of new and exciting experiences to the street.
Reduced rate parking will be available at Chapel Street car park from 3pm on Thursday November 30 until the following morning.
For more information about this and future events, visit Love Sadler Gate's Facebook page by clicking here.