Derby's iconic 90s club night Pink Coconut returns - but there's a twist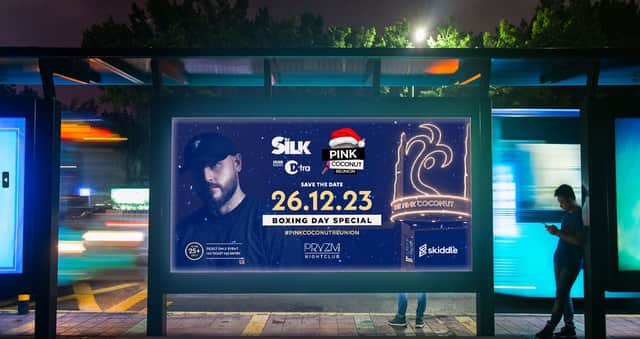 A club night that was initially started over a decade ago, to take people on a 'happy trip down memory lane', is now attracting clubbers from across the pond and playing sell-out venues across the Midlands. 
The Pink Coconut was one of the leading clubs in Derby in the nineties, attracting thousands of revellers who came to see big names play including legendary soul singer Beverley Knight and then chart-topper Mark Morrison.
The night club's 50-year history that saw it undergo several name changes including Bailey's, Romeo's and Juliet's, Destiny and Elite, Blu Bambuu, and Syn, was not enough to save it from closure in 2012. 
Fast forward to 2023 and Pink Coconut Reunion is a series of club nights that is the brainchild of Kieron Thomas, 38, from Nottingham.
Kieron used to attend Pink Coconut 'back in the day' and is eager to recreate that heady experience for those attending his reunion nights in 2023. 
But first, we have to know - why Nottingham?
Kieron started organising the club nights 13 years ago and was keen to hold the Pink Coconut Reunion at the site of the original club, but was unable to do so due to its closure.
Kieron said: "Prior to Destiny and Elite closing down we were due to hold a reunion there but unfortunately it had closed before we had the event!.
"What an incredible experience that would have been to have a Pink Coconut Reunion with over 2,000 people in its original location and building, if only…"
Mindful of Pink Coconut Reunion's Derby roots, Kieron's first port of call was to look into Derby venues. 
He said: "We've had one event in Derby due to high demand for it to be back in the originating city, which was held at the Friary and Popworld.
"Sadly it wasn't big enough, it only held 1,000 maximum and just wasn't the right venue to hold a Pink Coconut Reunion which most of our customers agreed. 
"We had also booked another venue in Derby but unfortunately they changed ownership and weren't willing to work with outside promoters. 
"I know people still ask that big question 'Why isn't it in Derby?'
"If we could find the right venue which holds 2,500 people in Derby, I guarantee we would be doing a 'Pink Coconut Reunion Comes Back To Derby.'
"I do hope in time we are able to bring it back to Derby at some point and we are very open to venue suggestions if anyone manages a venue that they believe is suitable please contact us on 07542 743880."
Kieron is confident that the Pink Coconut Reunion will make for enjoyable nights out for people in Derby - and across the world. 
"Don't be put off because it's 10 miles down the road"
He said: "Please don't be put off by coming because it's 10 miles down the road, come and give us a try along with many more from Derby, Birmingham, Sheffield, Northampton and London. 
"We have even received a call confirming we have a group travelling from the USA to join us on Boxing Day."
The Pink Coconut Reunion journey
The Pink Coconut Reunion series has seen steady progress over the years.
What started out as a club night with around 150 people is now selling out venues with over 2,000 clubbers. 
Posters can now be seen at bus stops in Nottingham and around the city centre.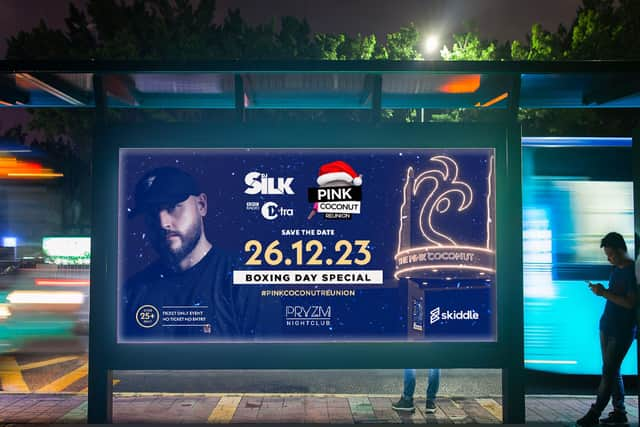 Speaking about the club nights' growth, Kieron said: "It's most definitely been a journey involving commitment, long days, sleepless nights, and nerve wracking times. 
"All these things come with being a promoter which have to be managed to ensure we deliver for our clientele who are the most important thing for us. 
"Once they tell us about the amazing time they have had, memories it's brought back, and people they haven't seen for years, then we are happy."
The next Pink Coconut Reunion club night is on Boxing Day which people, judging from the group's social media page, are really looking forward to. 
Kieron said: "We are proud to be bringing back the Pink Coconut Reunions year on year for over a decade, for sophisticated connoisseurs who love to be taken on a journey down memory lane, where people come out to have a good time."
Kieron is happy with the popularity of the Pink Coconut Reunion club nights, whose success he credits to his team which includes DJ's, videographers and photographers.
The Pink Coconut Reunion social media page which has over 6,500 members is filled with positive comments from revellers who have described the club nights as 'amazing,' 'awesome,' and 'epic.'
The future seems bright (a luminous pink perhaps?) for the Pink Coconut Reunion club nights as the promoter is eyeing up festivals here in the UK and abroad. 
For more information about the Pink Coconut Reunion visit their Facebook page by clicking here.
For their Boxing Day Winter Wonderland tickets visit the booking page by clicking here.