Piptree Café: The quaint Derby café where people queue to take photos of the cakes
This café is a feast for your eyes as well as your stomach
Checking out a café to review very rarely leaves me surprised, but then again, this Derbyshire cafe is not really normal.
One sunny Saturday I decided to visit PipTree Café because it has been on my 'to visit' list forever and people keep taunting me with photos of the food served there. 
It's a 15-minute drive from Derby city centre and getting there and parking was easy. Based on the site of a garden centre which is a plant nursery the café has extensive seating both inside and out. 
The first thing I spotted when we entered the building was someone taking photos of the cake counter. I know cake can be alluring, so I let it slide.
Within seconds I realised there was a line three people deep, of eager cake enthusiasts, clutching their smartphones who were waiting to take photos of the cake counter.
I have seen crowds waiting for celebrities, but I have never seen people queue… for a cake counter. That left me shaken right before I had even managed to get a seat.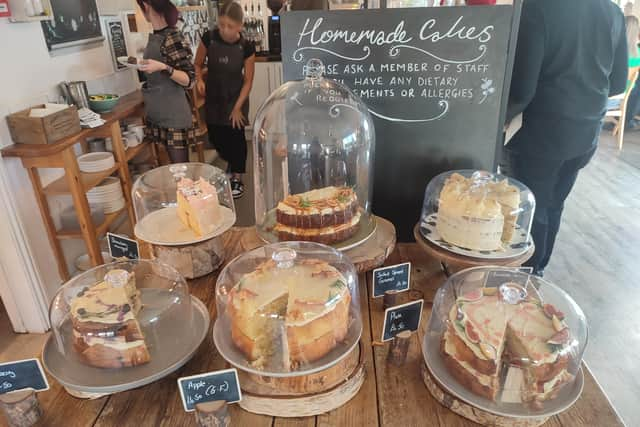 Glancing around the café, I spotted a vacant table to sit at, which just so happened to be adjacent to the cake counter, right near where all the cake action was happening.
Massive glass cloches filled with equally giant sponges took pride of place on the table near the entrance, filled with cake flavours including plum, apple, strawberry meringue and salted spiced caramel.
The line to be served was long and augmented the bustling atmosphere of the café, which I loved. You can physically order at the till, but we placed an order by scanning the QR code on the menu.
Drinks were pleasant and tea was served in pretty crockery which added to the quaint nature of this café. 
I ordered a cheesy ciabatta pork sausage and onion chutney melt, although there are vegetarian options available too.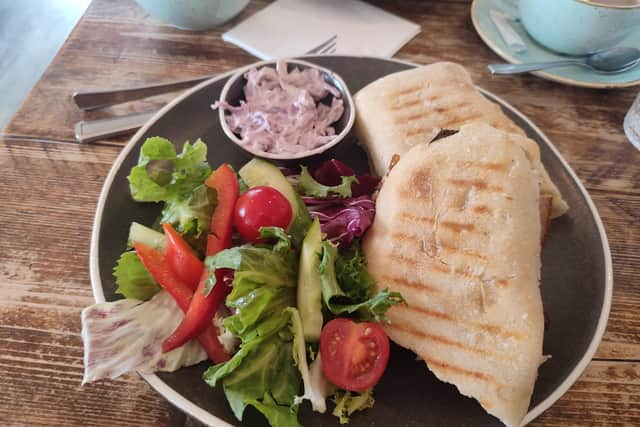 This came with a lightly dressed side salad and a ramekin of coleslaw. 
The bread was toasted enough but not rendered overtly crispy and I really enjoyed the seasoned sausages. I would have preferred to see less onion chutney as there were around four tablespoons of the stuff, but this is just personal preference.
PipTree wasn't stingy with the portion sizes either with around three sliced sausages in my sandwich.
Aside: One café I visited a few months ago served 1.5 of a tiny sausage in a barm, which I didn't agree with - it's a sausage barm, give me the sausages! - so I haven't been back there since. 
I couldn't taste the coleslaw as I can't eat mayonnaise due to allergies, but my dining partner said it was very good.
It was nice to see a mixed salad of more than just your regular Iceberg lettuce and tomato. This one had sliced peppers, cucumbers and radicchio, all in a tangy vinaigrette dressing.
My dining partner had the smoked salmon quiche.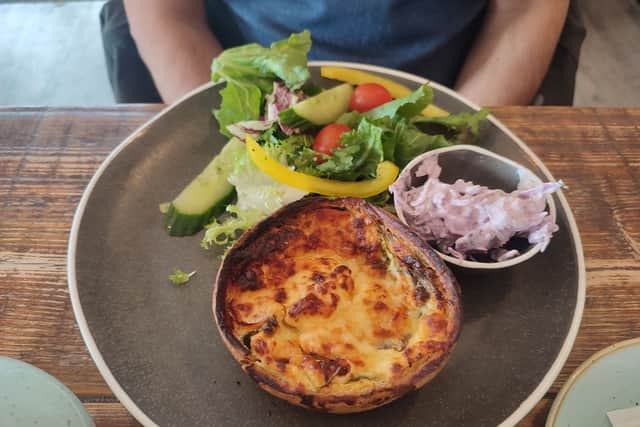 The quiche carried through the smoky depths of the fish well and the pastry had a lovely short crumb.
It came with that lovely side salad and coleslaw, which the dining partner really enjoyed.
We were too full to eat cake at the café and we had a party to go to that evening, so a takeaway cake to be eaten two days after buying, would have been unfair to review. 
Not that I need an excuse, but I will have to return to PipTree just to try the cake soon.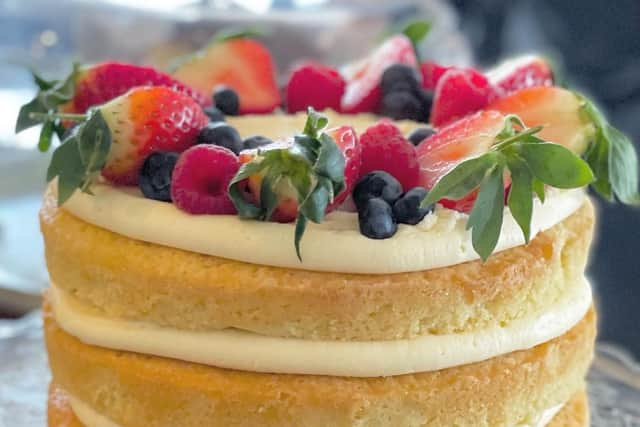 Throughout our stay which lasted for around 90 minutes, countless people wandered over to the cake counter to take photos or just ogle at the gorgeous array of treats.
I am sure PipTree's cake counter has been papped more than Tom Cruise, in fact, I am willing to place bets on it.
Tom Cruise famously ships over to his friends and family for the holidays - no matter where they are in the world - the famed white chocolate coconut cake from Doan, a family-run bakery in California.
I have dreamt for years to be on our Tom's cake-giving list and don't think it's going to happen in my lifetime, but now, I'm thinking of having an entire cake from PipTree Cafe as a treat for the holidays, from me to me, because the cakes are so good looking. 
There is also a specials board serving Vietnamese fusion dishes which includes banh mi, kimchi grilled cheese, and chicken bao.
Yes, I am already planning what I will be eating on my second visit to PipTree, which is a testament to its outstanding food offering. 
Overall the food at PipTree is faultless, and service efficient, and the café is so light and airy, that I may have to switch up my work-from-home routine and land there to work from the café one day.
I just hope that the cake counter doesn't distract me too much and get in the way of my writing.
What we ate and drank at PipTree Café
Belvoir elderflower pressé £3.20
Smoked salmon quiche £8.50
Sausage cheesy melt £8.95
Address: 260 Nottingham Road, Borrowash, Derbyshire DE72 3FR
For more information about PipTree Cafe visit their website by clicking here.