We tried the new M&S café Christmas menu and LOVED the giant cheesy crumpet
New festive items includes pot pie soup and sausage ciabatta
Watch more of our videos on Shots! 
and live on Freeview channel 276
Visit Shots! now
The 'C' word should well and truly be part of your vocabulary now as Christmas is just over a month away.
Marks and Sparks has rolled out its festive café menu and we couldn't wait to pop along and give it a try. M&S Café was super busy on a Friday afternoon, no doubt for the lunchtime rush, with queues snaking out of the eatery and entering the optician section.
I love a bustling café vibe and with the free Wi-Fi, this became my remote working spot for the day.
M&S Café has a compact but versatile winter menu whose festive offerings include rarebit crumpet, turkey pot pie soup, and Colin Caterpillar with a festive makeover.
These items are served all day, in fact, you can even take Colin home if you want to pack a treat for later.
The Giant Cheese Rarebit Crumpet arrived with a generous dollop of festive chutney.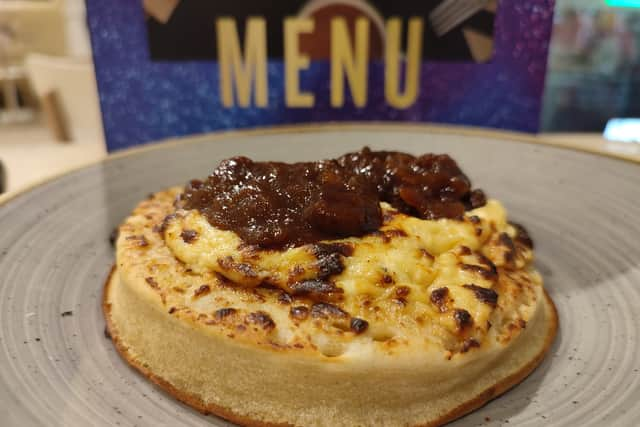 The crumpet was nicely toasted and the topping had an excellent yeasty tang, thanks to the mustard and piquant cheese.
Gooey cheese was golden and this was the highlight for me, I couldn't help but smile as I enjoyed mouthfuls of hot buttery crumpet. 
The sweet and sour chutney was a good accompaniment, but if you're not a chutney person, then ask for it to be served on the side.
This giant crumpet may appear to be in the realms of breakfast, or just toast, but my God it is so filling, it would be amazing as part of brunch. 
Turkey Pot Pie Soup is something I have not tried before.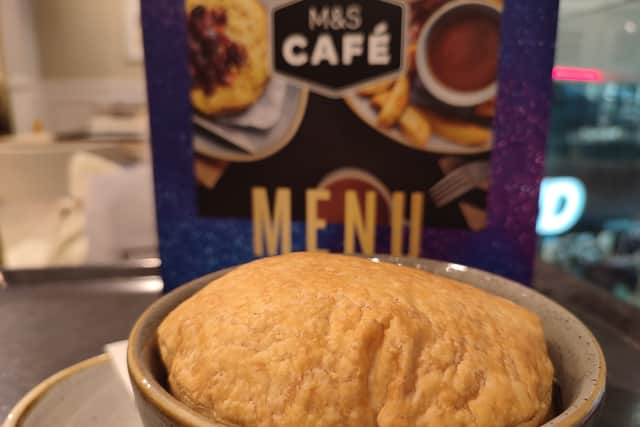 The steaming hot soup came topped with a perfectly baked rough puff pastry lid.
I was surprised by how much I enjoyed this because the soup was very well-seasoned and surprisingly thick.
There is no ladylike way to enjoy pot pie soup, so I committed pastry murder, smushed the pastry lid with joyful thuds of a tablespoon and enjoyed scoops of pastry and soup.
Mini Christmas Colin Caterpillar was ready to take home from the counter.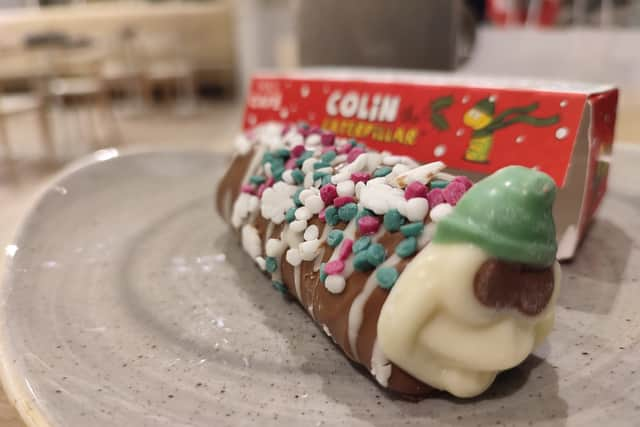 Imagine Colin wearing a Christmas jumper and you get an idea of how cute he looks. Yes, chocolate can look cute in all its multicolour sprinkled glory.
The sponge was good but I could barely taste buttercream and would have preferred a little bit more.
Next time I will try the yule log, which had sold out, it was that popular.
M&S Café's Christmas menu is a hit with me and I look forward to trying its other winter menu offerings of sausage and cranberry ciabatta, and turkey ham hock toastie.
Overall I really enjoyed eating M&S Christmas food from their café, but it is that giant cheesy crumpet that will stay in my mind long after I've left the eatery.
It is clear M&S knows what it's doing with food - regardless of season, its dishes generally seem to deliver.
The café is always busy, which means they are also satisfying the appetites of the people of Derby.
What I ate at M&S Café from their festive menu
Giant Cheese Rarebit Crumpet £4.50
Mini Colin Christmas Caterpillar £2
Address: M&S Café, Derbion, London Road, Derby DE1 2PL